We'll make Japanese steamed pork (or veggie) buns from scratch.
We Osaka people call it "Butaman", which is one of soul foods for Osaka people as the same as Takoyaki and Okonomiyaki. We'll make 8 potions of Butaman in this class.
This cooking is great for the team building, the birthday party because all members can share a nice time as well as a good dish together.
step
Make Wrapper dough
Make fillings
Wrap the fillings with dough
Steam them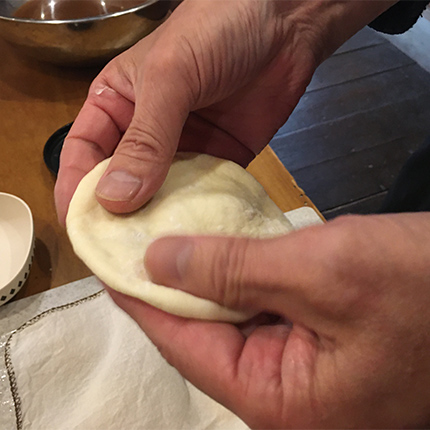 Menu
・Steamed pork (veggies) buns
Price
6,000 JPY per person (over 12 years old)
Inclusions
・Zoom usage fee
・Recipe (PDF)
Minimum number of participants
More than 4 people
Open
Closed
Time
① 9:00 AM to 10:30 AM(JST)
②12:00 PM to 13:30 PM(JST)
Please check your time here.
※JST=UTC/GMT +9 hours
※JST=PST+17 hours
Feel free to inquire about your suitable time if you cannot join the above time.
Duration
1hour and half
Needed ingredient & equipment
Flour (All-purpose or 8 to 10% protein contents), Water, Starch, Yeast, Baking powder, Vegetable oil, Sesame oil, Ground pork (Dried shiitake mushrooms and thin deep-fried tofu for vegan), Onion, Salt, White wine, Soy sauce, Oyster sauce (or Miso paste & sugar), White pepper,
Scale, Measuring cups, Tablespoon, Teaspoon, Bowl, Wax paper
Cutting board, Kitchen knife, Rubber Spatula. Steamer
Additional Notes
The internetwork is needed, PC is recommended
Prepare all ingredients and equipment by yourself.
We'll send you the following information by email after your payment.
・The zoom account to join class
・The link of "Details of preparation"
※You can get the PDF recipe at the end of the page "Details of preparation".
Feel free to contact us anytime if you have any questions.
Private class
This experience is great for team-building and parties because all members can share a nice time and delicious foods.
●Price

36,000 JPY (over 12 years old, 1~6 people)
6,000 JPY for each additional person (over 12 years old, 7 to 10 people)
5,400 JPY for each additional person (over 12 years old, 11 to 25 people)

●Maximum number of participants

25 people
※You can choose your favorite menu from No.1 and No.2 regardless of the month. (All members have to make the same menu.)
In a situation where any of the above conditions doesn't apply, feel free to ask us.
We'll be happy to quote any time.